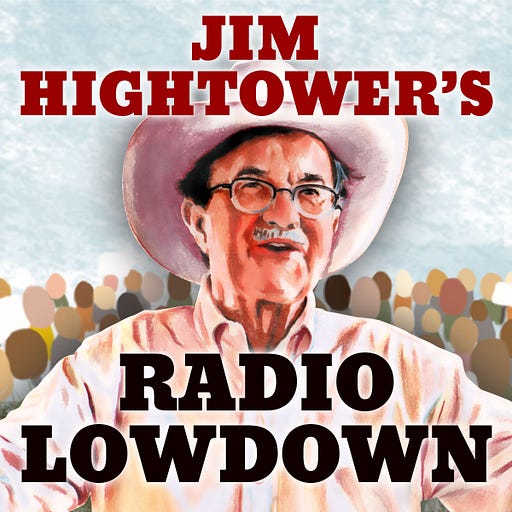 Sep 6 • 2M
Clueless CEOs Confused By Workers Quitting
Author, agitator and activist Jim Hightower spreads the good word of true populism, under the simple notion that "everybody does better, when everybody does better." Read more at hightowerlowdown.org!
For more than a year, America's corporate chieftains have been moaning about "The Great Resignation" – the recent phenomena of workers just up and quitting their jobs. And now comes "Quiet Quitting," workers who don't leave their jobs, but only do what they were hired to do, quietly rejecting the endless extra (unpaid) tasks and weekend assignments that bosses try to pile on. What's at work in the heads of all these workers?
Jim Hightower's Hightower Lowdown is a reader-supported publication. To receive new posts and support my work, consider becoming a free or paid subscriber.
Simple, barked one taskmaster way back in 1894, "nobody wants to work." And here's an anti-New Deal baron in 1940, snorting that "trouble is everybody is on relief or a pension – nobody wants to work." Then in '52, came the same refrain, everybody is "too damned lazy and nobody wants to work anymore." Year after year, the exact same wail is repeated from on high, including this group gripe expressed in a corporate survey this year: "1 in 5 executive leaders agree [that] 'No one wants to work.'"
Given the historic continuum of executive-suite disdain for working stiffs, it's no surprise that the top dogs are blaming "sluggish" workers for today's rampant job dissatisfaction. But it's both hilarious and pathetic that high-dollar bosses are so inept at employee relations that they can't keep the rank and file on the job, much less happy. Their response has been to put a silly band-aid on this serious problem. They've created new executive positions like "Chief people officer" and hired consulting firms with such names as "Woohoo" and "Happy Ltd" to come up with treats, trinkets, and gimmicks, trying to make the workplace a playscape: Beer tastings! Ping Pong games! Meditation periods! A Lizzo concert! Office slides! Company water bottles! Wine Wednesdays!
Seriously? Memo to CEOs: Try decent pay and benefits, rational scheduling, meaningful goals, real teamwork, and personal respect. In a word: Dignity.