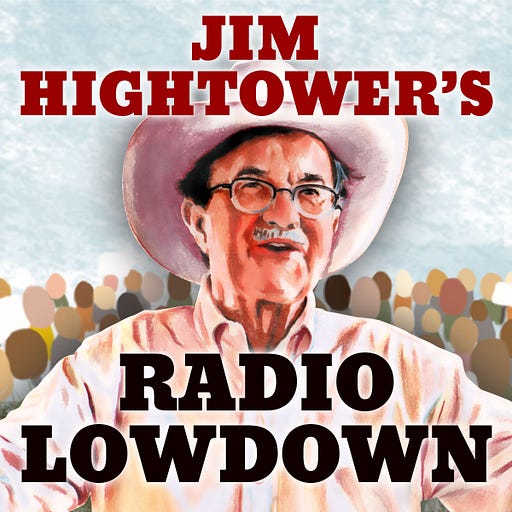 Aug 17 • 2M
Good News: Small Groups Can Defeat Corporate Giants
Author, agitator and activist Jim Hightower spreads the good word of true populism, under the simple notion that "everybody does better, when everybody does better." Read more at hightowerlowdown.org!
From corporate polluters to political bosses, power elites try to create a myth of inevitability, trying to make workaday people feel helpless, too small to change the injustices of the system. Don't bother is their message.
Jim Hightower's Hightower Lowdown is a reader-supported publication. To receive new posts and support my work, consider becoming a free or paid subscriber.
But the feisty residents of Boxtown, Tennessee, definitely did bother when they learned that a couple of profiteering fossil fuel giants were targeting them. Boxtown, a historic Black neighborhood of Memphis settled by former slaves 160 years ago, was considered by Valero Energy and Plains All-American Pipeline to be politically powerless, so when these multibillion-dollar petro powers decided to ram a dirty and dangerous pipeline through the Memphis area, Boxtown was their chosen route. The rich Texas oil barons even sneeringly called the lower-income community, "The point of least resistance."
Boy did they get that wrong! Those "small" people of Boxtown resisted fiercely and smartly. Most flat-out refused to sell their family land at the thieving price offered by the oil slicks. They forged a unified grassroots coalition (Memphis Community Against the Pipeline), reached out to other neighborhoods, and educated locals about the terrible safety records of the two corporate plunderers. They also enlisted environmental groups to help beat back the strong-arm attempt by Valero and Plains All-American to seize the people's property through eminent-domain. It's a long story, with many ups and downs, but the inspiring essence of it is that local "nobodies" defeated the big money and raw racist arrogance of a powerhouse duo of absentee corporate elites that disrespected – and misjudged – them.
It gets little national media attention, but regular grassroots communities and coalitions are mounting – and winning – such gutsy fights against corporate exploiters all across America. We're not helpless or too small – remember this: Even the smallest dog can lift its leg on the tallest building! To learn more, contact MemphisCAP.org
.