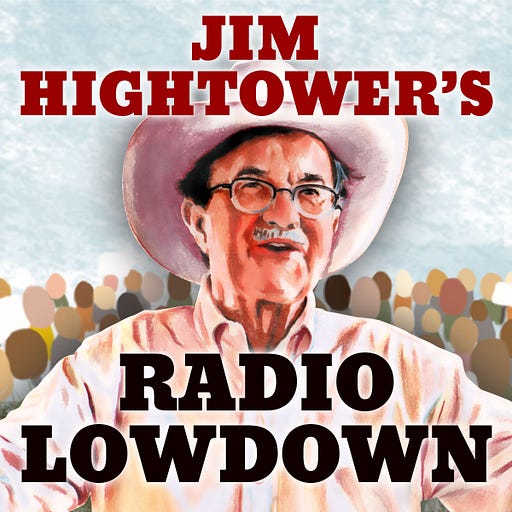 Sep 5 • 2M
Why Are Far-Right-Wing Extremists Worshiping John C. Calhoun?
Author, agitator and activist Jim Hightower spreads the good word of true populism, under the simple notion that "everybody does better, when everybody does better."
A few days ago, the city of Savannah, Georgia took an important symbolic step toward racial inclusiveness, naming one of Savannah's 23 historic public squares for a Black woman.
Susie King Taylor, born in 1848 to enslaved parents, became a renowned educator, setting up schools for emancipated children and adults – a laudable role model in America's ongoing struggle to extend equal opportunity to all. Before adding Taylor's name, though, the name that had been plastered on that square 170 years ago – John C. Calhoun – had to be subtracted. Council members did that last year, finding the South Carolina senator and two-time vice president unworthy of any public honor. Why?
Well, why would Georgians of 1853 create a monument to a lawmaker from another state? Answer: Slavery. No politician in our history has been a more vehement apologist and promoter of human enslavement than Calhoun. Thus, racist Southern leaders revered him. A rich son of plantation privilege, Calhoun owned dozens of slaves. More shamefully, he built his political career by fabricating a hokey economic theory asserting that slavery was such a "positive good" that even white workers in Northern factories should be converted to slave laborers.
Worst of all, Calhoun opposed the democratic ideal of majority rule, crying that it allowed the many to "interfere" with the freedom of the elite propertied class (his own) to do what they wish with their "properties" – including slaves. He even favored outright plutocracy, proposing that the rich should be given a special right to overturn laws they don't like.
While Savannah is doing the right thing by saying no to this autocrat… beware, for the Koch brothers' network of today's plutocratic billionaires is now exalting Calhoun, furtively organizing to impose his plutocratic order over us. To learn more about and fight against the Kochs, go to: TrueNorthResearch.org.
Enjoyed this post? Please consider sharing with friends and on social media!
Jim Hightower's Lowdown is a reader-supported publication. To receive new posts and support my work, consider becoming a free or paid subscriber.