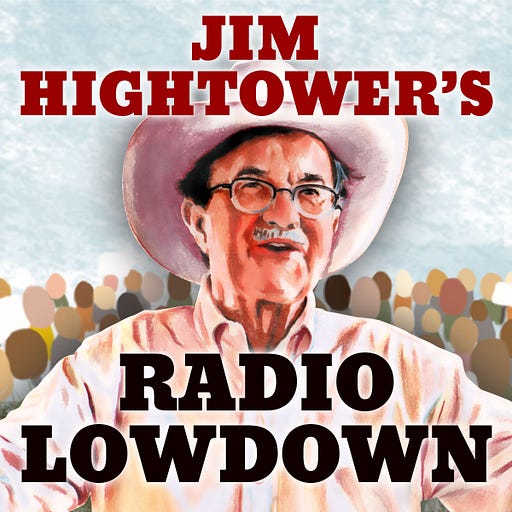 Apr 13 • 2M
Why Isn't the Death of Local News National News?
Author, agitator and activist Jim Hightower spreads the good word of true populism, under the simple notion that "everybody does better, when everybody does better."
My city's daily newspaper has gotten so emaciated it should be in hospice care.
Its  front "section" is down to six pages, half of which are cheap ads, and nearly all of its articles are out-of-date, cut-and-paste pieces bought from out-of-state "content providers." This embarrassment, put out by the Gannett chain of over 1,100 cadaverous papers, pretends to be the "news" source for Austin, a vibrant city of a million people and the capitol of the second-largest state in America! Gannett, owned by a multibillion-dollar Japanese hedge fund, profits by buying up local papers, firing most of the news staff, raising prices, selling off the papers' assets, then killing the paper.
If your town's publication is a now a Gannett property, look to Salinas, California for its future. The 152-year-old Salinas Californian was this important region's main news artery until its hedge-funders started hacking. The paper was down to one reporter last December, but that lone journalist quit – and the Californian is now a "newspaper" without reporters – meaning no coverage of elections, city hall, sports, police, workplace issues… etc.
The Salinas paper is technically alive, overseen until recently by another Gannett paper – located 300 miles away! Now, says the chain's comically-named "Center for Community Journalism," Salinas residents can get their news by reading Gannett's national paper, USA Today.
In fairness, Gannett's bosses are making major investments. In themselves. CEO Mike Reed's salary this year is $8 million for helping gut local news. And while the global chain's owners won't pay for a reporter in Salinas, they will spend $100 million for a stock buyback scheme that will artificially jack up their own wealth. This is a blockbuster story of real news affecting real people and democracy itself. So how man Gannett "news" papers do you guess are covering it?
---
Enjoyed this post? Please consider sharing with friends and on social media!
Jim Hightower's Lowdown is a reader-supported publication. To receive new posts and support my work, consider becoming a free or paid subscriber.