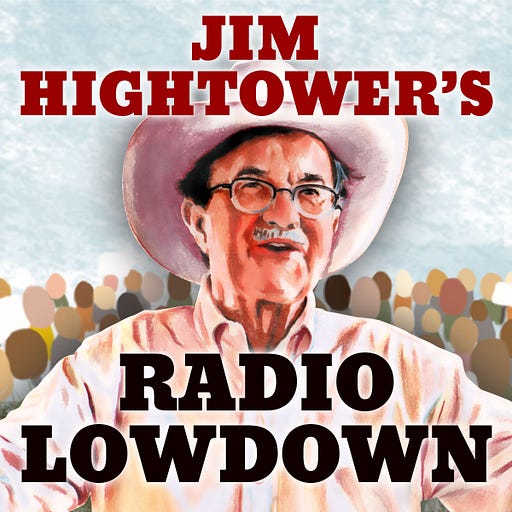 Apr 24 • 47M
Chat & Chew! Beyond Book Banning: the Movement to Control America
Featuring Emily Drabinski of the American Library Association and Nadine Farid Johnson of PEN America
Author, agitator and activist Jim Hightower spreads the good word of true populism, under the simple notion that "everybody does better, when everybody does better."
You've probably heard the news out of Texas, Missouri, Michigan, Idaho and more— sudden and inexplicable protests against books and demands that they be removed from libraries. And you've also probably noticed that the books getting banned seem to have things in common with one another, like the prominence of LGBTQ+ characters, or themes that explore racial justice—or the lack thereof—in America. Could this seemingly "spontaneous" movement represent something more?
Hightower welcomes Emily Drabinski, incoming president of the American Library Association, and Nadine Farid Johnson, managing director of PEN America Washington and and Free Expression Programs, to discuss… and talk about actions you can take to protect your local library.
---
Links we discussed:
---
We're working on a full transcript of the show! We'll update this page when we have it ready.
---
Enjoyed this post? Please consider sharing with friends and on social media!
Jim Hightower's Lowdown is a reader-supported publication. To receive new posts and support my work, consider becoming a free or paid subscriber.