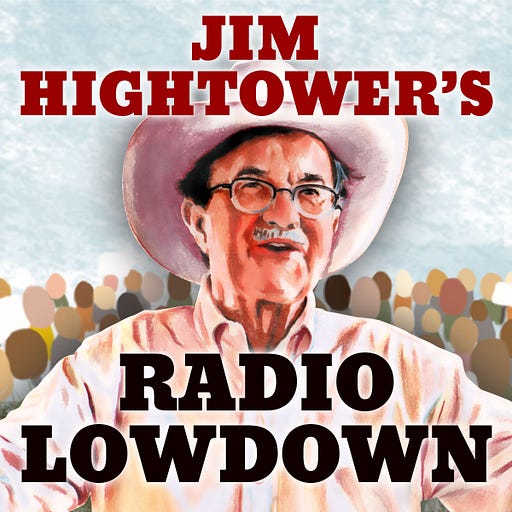 Mar 21 • 2M
Take a Whiff of Elon Musk's Ecological Paradise
Author, agitator and activist Jim Hightower spreads the good word of true populism, under the simple notion that "everybody does better, when everybody does better."
Exciting News, people: Utopia is on the rise! 
Space Commander Elon Musk has announced that His Magnificence (ie, him) intends to construct his very own private town on 3,500 acres of farmland near his new Tesla plant southeast of Austin, Texas. More than a town, Musk explains that he will create utopia in Texas, promising an "ecological paradise" where his Tesla workers can live and do fun things like swimming, pickleball... and paying rent to him.
The gabillionaire is certainly rich enough to erect his own Muskopolis. But, alas, the "utopia" name is already taken. Indeed, I've been to Utopia, Texas, a small town west of San Antonio that was founded in 1855 by (cover your ears, Elon!) Swiss Socialists. Of course, history shows that a company town is ruled by the company, not by residents (much less socialists). And Musk has made clear at Tesla, Twitter, etc. that his personal whims rule over workers, consumers, our environment… and even truth.
Which brings us to that ecological worker's paradise he's promising. Even as one arm of his empire was extolling his vision of a Garden-of-Eden situated along the beauty of the Colorado River, another arm was scheming to pollute it! Musk is asking Texas' corporate-controlled regulators to let him use the site to dump 140,000 gallons a day of his industrial wastewater into the Colorado.
Excuse me, but that turns Elon's ecological paradise into a fraud. Worse, it adds up to Musk pouring 50 million gallons a year of his waste into the river, fouling the main water source for dozens of towns and hundreds of farms downstream.
Musk seeks to extend the long sordid history in our country of company town hucksters, and his latest Texas scam is proof that we should never trust a billionaire promising us paradise.
---
Enjoyed this post? Please consider sharing with friends and on social media!
Jim Hightower's Lowdown is a reader-supported publication. To receive new posts and support my work, consider becoming a free or paid subscriber.