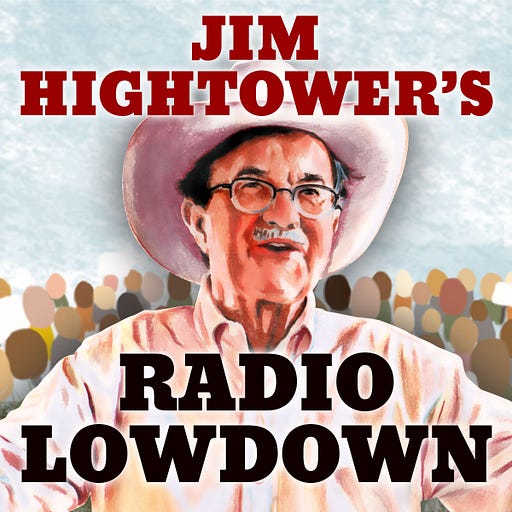 May 25 • 2M
Two Joe Bros Versus the People of Appalachia
Author, agitator and activist Jim Hightower spreads the good word of true populism, under the simple notion that "everybody does better, when everybody does better."
If poohbahs of the national Democratic Party wonder why working-class families, which once formed the party's solid base of political support, have gone astray – they might ponder the awful message they're sending by constantly smooching Sen. Joe Manchin's flabby tail.
The multimillionaire, West Virginia coal baron and anti-democratic "Democrat" is demanding that a massively-polluting pipeline, named Mountain Valley, be rammed through rivers, watersheds, national parks, towns, farmlands, homesteads – and down the throats of the people of West Virginia, Virginia, and North Carolina. Why? Money. The senator's fossil fuel funders, who own the project, want the federal government to mandate construction of their corporate boondoggle.
For a decade, gutsy grassroots groups have rebelled and defeated these Wall Street profiteers, and the people of this Appalachian region are still adamantly opposed. But here comes Biden to rescue Manchin and his fossil fuelers with a dirty backroom deal overruling the will of the people. Proclaiming that he wants to advance America's conversion from fossil fuels to renewable energy, Biden is pushing a bill to make it easier and faster to get federal approval for new energy projects. Fine. But his bill specifically greases the skids for more fossil fuel projects. And guess which one is first in line for quick approval? Yes, Brother Joe Manchin's Mountain Valley Pipeline.
Continually pumping fracked gas across three states would produce a mess of leaks and spills, but the project would also emit some 40 million metric tons of planet warming gas a year – equivalent to the annual pollution of 10 coal plants. As the Natural Resources Defense Council puts it, "We won't build the clean energy economy of the future by doubling down on the dirty fuels of the past."
For information and action on this raw deal by the two Joes, connect with Appalachian Mountain Advocates: appvoices.org.
---
Enjoyed this post? Please consider sharing with friends and on social media!
Jim Hightower's Lowdown is a reader-supported publication. To receive new posts and support my work, consider becoming a free or paid subscriber.